My Products
0
Sorry!
No data found. Add products to shortlist first.
Last Seen
1
Recommendation
4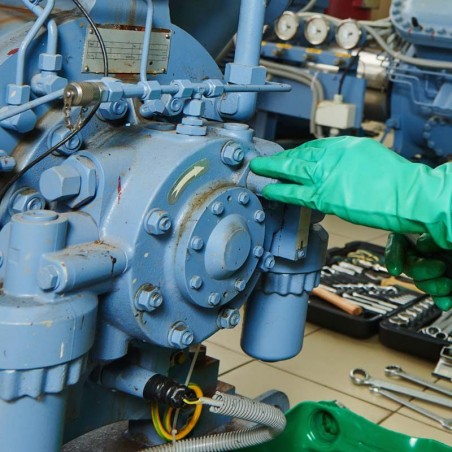  
Compressor oil VDL 30
VAT included
usual 10 workingdays or availability
helios Compressor Oil EP are primarily used for the lubrication of air compressors with lube-injected chambers and compression end temperatures up to 220 ° C. The oils can also be used for the lubrication of vacuum pumps that deliver against a higher than atmospheric pressure.
Furthermore, the helios Compressor Oil EP come for the lubrication of thermally highly loaded rolling and plain bearings in circulating oil systems used. The oils can be used as hydraulic oils, provided there are no special requirements for the wear protection of the assets to be used hydraulic oil.
- High aging stability
- High thermal stability
- Low tendency to form deposits in the compressor
- Reliable corrosion protection
- Even at high compression temperatures, thereby reducing the fire and explosion risk
- Good demulsibility prevents blockage of filters and oil separators by emulsification with condensed water
helios Compressor Oil EP meet the requirements
"VDL lubricating oils" according to DIN 51506 (compressor oils)
"Lubricating oils CL" in accordance with DIN 51517-2 (lubricating oils)
"Hydraulic oils HL" in accordance with DIN 51524-1.