My Products
0
Sorry!
No data found. Add products to shortlist first.
Last Seen
1
Recommendation
20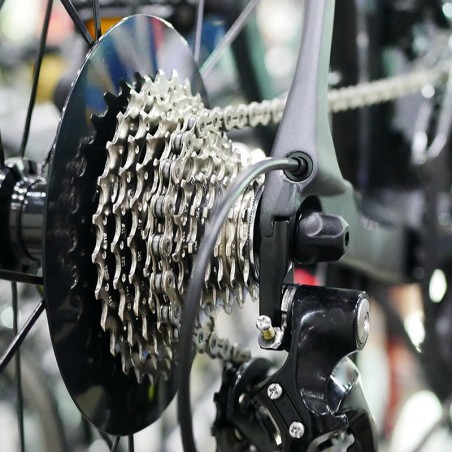  
EAL Bicycle Chains Fluid FuK16, water based
VAT included
Order with delivery time - in production schedual
EAL (bio) Bicycle Chain Fluid FuK16 is water based with "Blue Angel" as State of the Art. Bicycles with non-encapsulated chain loss lubrication are not climatically + not environmentally friendly. This cannot be avoided with modern products. A MUST for the convinced "cyclist".
Operating temperature -10°C greater than 50°C Test: cold behaviour (72H/-18°C): passed
Colour: transparent, brownish
Proper storage for up to 2 years
EAL Bicycle Chains Fluid FUK16: chain lubricant water-based, additive
Bicycles have chains loss lubrication + drip losses. Chains should not "creak + crunch". Chains should rustle and buzz. EAL Bicycle Chains Fluid FUK16 is a chain adhesive fluid which is suitable for slow to medium speeds with non-encapsulated chains. The professional bicycle operator (bicycle courier etc.) is convinced of the energy saving + maintenance reliability. 
EAL Bicycle Chains Fluid FUK16 increases the viscosity up to a temperature of approx. 38 °C. At temperatures below 15 °C, however, EAL Bicycle Chains Fluid FUK16 becomes thinner. On the one hand this prevents the premature loss of lubricant on the chain, especially at high rotational speeds and temperatures, on the other hand it facilitates the handling of the lubricant at lower outside temperatures. Even at 50 °C EAL Bicycle Chain Fluid FUK16 shows a viscosity of approx. 60 mm²/s. Application is recommended using a dripping or suitable cloth.
EAL Bicycle Chains Fluid FUK16 is especially environmentally friendly. The main component of the product is water and therefore only a minimum of so-called foreign matter is discharged during loss lubrication. Impurities on the chain and parts of the bike, as well as on clothing, can easily be washed off with water. The light-coloured lubricating fluid additionally reduces foreign deposits on the chain.
The raw materials used in the production of EAL bicycle chains Fluid FUK16 are environmentally friendly as they are biodegradable.