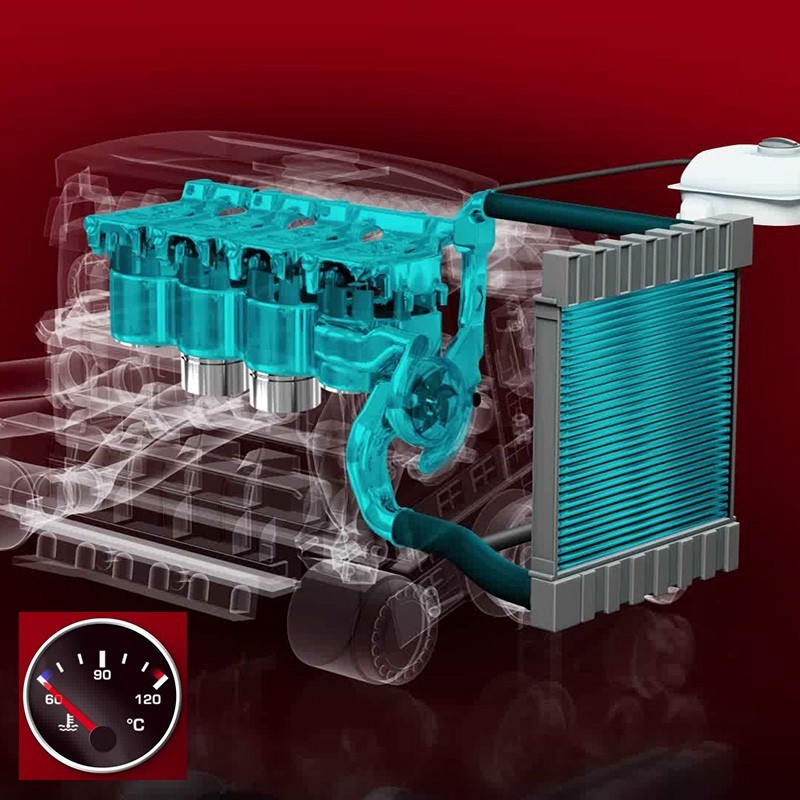  
GLYSANTIN G64 green + G65 pink
GLYSANTIN® G64® green. Antifreeze Coolants for downsized engines: high temperature stability and compatibility with flux-brazed aluminum heat exchangers. The "climate successor" of Glysantin G48. Future-proof radiator protection products require pioneering new technologies. Glysantin® G64® not only exceeds all technical requirements and meets the demanding legal requirements, but also sets new standards for the sustainable protection of modern engines. Coolant Radiator Antifreeze protection G64
Performance advantages:

- Excellent heat transfer in the engine cooling system
- Improved thermal stability
- No formation of deposits
- Excellent corrosion protection

Sustainability Benefits: 

- Lower maintenance requirement
- Longer life of the engine cooling system
- REACH conformity
Glysantin® G64® - sustainable protection for modern engines
Glysantin® G64® is tuned to the heat flows of a high performance downsizing engine. The thermal stability of Glysantin® G64® allows for excellent heat transfer within the cooling system.
Glysantin® G64® also protects motors from overheating or frost and effectively prevents deposits due to abrasion or dirt. It protects important components such as cooling ducts in the cylinder head, engine block or water pump. It protects cylinder start bushes on heavy-duty diesel engines.
Approvals Glysantin® G64®green
- Mandatory for all Volvo Cars (old + new)
- Deutz
- Deutz-Fahr (from 04-2017)
- Hürlimann (from 04-2017)
- Lamborghini Trattori (from 04-2017)
- MAN Diesel + Turbo (175D)
- John Deere (from 2010)
- Perkins
Approvals Glysantin® G65®pink:
- VW TL 774
- Deutz DQC CC-14
Specifications Glysantin G64 + Glysantin G65:
- SAE J814
- ASTM D3306
- ASTM D4985
- ASTM D6210
- ASTM D7583
- SAE J1034
- Önorm V 5123
- CUNA NC 956-16
- PN-C40007:2000
- AS 2108-2004
- JIS K 2234:2006
- SANS 1251:2005
- GB 29743-2013
- BS 6580:2010
Reducing emissions and improving fuel efficiency is an important goal for automakers in the 21st century. Smaller and lighter engines are being developed that run at higher temperatures. Added to this are new materials for the production of engine cooling systems. Other factors include legal requirements (eg REACH) for the components used in the final product.
The associated problems, such as deposits, loss of function of the heat exchangers and higher corrosion tendency, present the radiator protection means of modern engines with great challenges.
Future-proof radiator protection products require pioneering new technologies. Glysantin® G64® not only exceeds all technical requirements and meets the demanding legal requirements, but also sets new standards for the sustainable protection of modern engines.
Glysantin® G64® industrial available, Use in the industrial sector of plant cooling, e.g. Electrolyzer for the conversion of electricity into hydrogen by PEM electrolysis for the fuel hydrogen. Power-to-X as fuel or fuel for heat generation uses Glysantin® G65® pink.
First dilute the correct GLYSANTIN® to the correct concentration and then fill it into the cooling system. If in doubt, please rinse the cooling system first.
It is also possible to use distilled or demineralised water. Conversion of water hardness 1 ° dH = 1 0.1783 mmol / l

Concentrate (not mixed) protect from frost. Only fully functional with proper mixing / mixing ratio. Do not use as a concentrate.