My Products
0
Sorry!
No data found. Add products to shortlist first.
Last Seen
1
Recommendation
14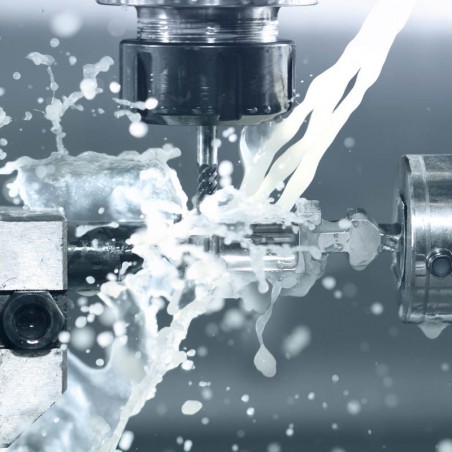  
Houghton Adrana A 2859
VAT included
usual 10 workingdays or availability
Water miscible metalworking fluid. Adrana A 2859 is recommended for heavy-duty machining operations on medium to high silicon content aluminium and is free of amines, boric acid, nitrite, formaldehyd and chlorine.
Applications
Adrana A 2859 is suitable for heavy-duty machining operations on aluminium alloys, low & high alloyed ferrous metals and stainless steels in individual machines and central systems.

Performance Features and Benefits
• High lubricity resulting in prolonged tool life
  and increased surface finish
• High stability extends the fluid life
• Good corrosion protection
• Low foam in water of medium hardness
• Operator friendly
• High HSSE profile

Recommended Concentrations
The concentration varies depending on the type of machining operation, the water hardness and the required inter-operational corrosion protection. The recommended concentration for use in medium
water hardness is:
• General machining : 6 – 8 %
• Heavy Duty machining : 8 – 12 %
Storage
The product should be stored inside (5-40°C) for no more than 1 year and be protected from freezing.
Protect the environment
Waste must be disposed of in accordance with EC Directive 91/156, 91/689 and 94/62 or in line with local legislation.