My Products
0
Sorry!
No data found. Add products to shortlist first.
Last Seen
1
Recommendation
18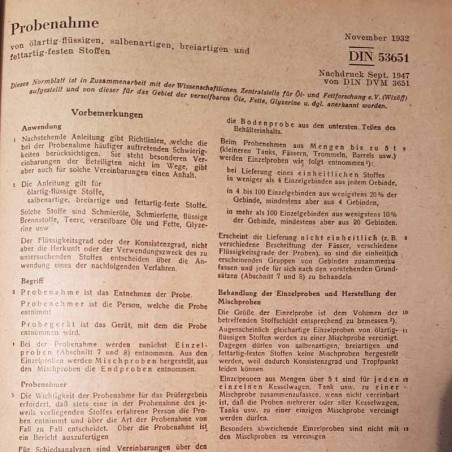  
HLAS sampling oil-like liquids (November 1932)
HLAS sampling oil - liquid substances (November 1932) is part of our written instructions (now ISO 9001) since time immemorial for helios lubeoil family business.
The first attempt at the standardization of lubricants was probably made at the beginning of 1917 ... in a close relationship "Freigabestelle Düsseldorf" of the Kriegsschmierölgesellschaft .. "" .. Already in July 1921 appeared as a result ... the first edition of the "guidelines". .. from which maybe "norms" develop. "
"... the guidelines which have become a sort of standard workmanship and recognized at home and abroad ..." ".. Although the lubricants at the outset initially were concerned, it could be a potentially undesirable one Stiffness, the general desire to put the tables on oils and fats on the widest basis ... "
"The path of the German post-war economy consists of a series of bottlenecks: one of them is the narrow board of our lubricant supply, which is a very important concentration." The German consumer looks worried after the instruction and the lamentation. . "
Source: Directive on the purchase and testing of lubricants
Ninth edition in 1949, Verein Deutscher Eisenhüttenleute