My Products
0
Sorry!
No data found. Add products to shortlist first.
Last Seen
1
Recommendation
14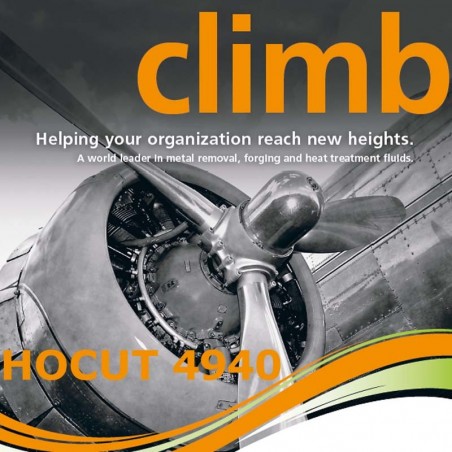  
Hocut 4940 Aircraft building cutting fluid
VAT included
Order with delivery time - in production schedual
Advanced, high lubricity, boron-free and formaldehyde-free emulsion technology giving very long sump-life. A special additive package gives greatly enhanced machining performance compared to conventional products and is particularly effective on difficult aerospace materials including aluminium, nickel and titanium alloys.
The world's top aerospace manufacturers rely on Houghton for high-tech fl uid products and valueadded service. For over 150 years, we've been helping clients improve productivity, reduce costs and improve quality.
This product holds the following approvals and conformities:
• Airbus 80T-30-4010: conformance
• Airbus AIMS 12-10-001: conformance
• Boeing BAC 5008 cat. 5&6: conformance
• Bombardier BAMS 569-001: conformance
• Grob: approval pending
• Messier Bugatti Dowty PCS 4001: conformance
• Pratt Whitney PWA 36604: conformance
• Safran PR 6300: approval
• Snecma 455-201-0-00: approval
RECOMMENDATION FOR USE
Medium duty machining 4-6 %
Heavy duty machining 5-10 %
Concentrate Appearance Amber oil
Specific Gravity @ 20°C 0.93
Refractometer Factor 1.05
Emulsion Appearance Milky white
pH in Use 8.9 - 9.5
HOCUT 4940 is recommended for heavy duty machining of a wide range of aerospace materials including aluminium alloys (series 2000 and 7000 in particular), high alloy steels and difficult aerospace materials such as titanium and nickel
alloys.
The product is suitable for both centralised systems and single-sump machines while the advanced boron-free technology extends emulsion life without the need for regular biocide treatments. The versatile formulation is designed to give low foam in soft water.
High lubricity: sophisticated package of mineral oil and polar additives extend tool-life
Very long sump-life: new Hocut 4000 series emulsion technology extends intervals between clean outs
Very stable emulsion: fewer additive treatments and lower usage costs
Inhibits aluminium staining: can be used for sensitive alloys eg 7000 series
Very low foaming: ideal for the highest speeds and pressures in soft water
Boron, formaldehyde, chlorine and Phenol-free: excellent EHS profile

Data sheet
Approvals Specs

Airbus, Boeing, Bombardier, Pratt Whitney, Safran, Snecma, Grob

Reference

water solube metalworking fluid