My Products
0
Sorry!
No data found. Add products to shortlist first.
Last Seen
1
Recommendation
18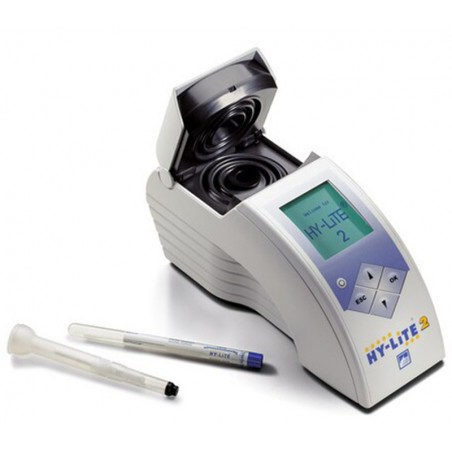  
HY-LiTE Jet A1 fuel test Hardware
VAT included
usual 10 workingdays or availability
IATA recommended Jet A1 analyzer kit testing for microbiological contamination. Test result after 15 minutes. HY-LiTE® 2 instrument*  with built-in printer, mains power supply unit (with worldwide adapters), 1 set of batteries, PC software and cable, certificates for QC, English manual (other languages on request), complete in shoulder bag (robust case on request)
Please ask about our bulk prices for fleet equipment.
This test kit may only be used in the context of testing procedures to determine microbiological contamination of Jet A-1 fuel and the corresponding water. The use of the test kit and the execution of the tests may only be carried out in strict compliance with the instructions in this document; In addition, the relevant guidelines of the International Air Transport Association (IATA) in the currently valid version must be observed ("Guidance Material on Microbiological Contamination in Aircraft Fuel Tanks", second edition, February 1, 2005. International Air Transport Association Ref. 9680-02 and new versions).
Otherwise the results of any tests carried out cannot be recognized as valid.
Note: The results obtained with such detection kits provide an indication of microbiological contamination. The only definitive method of determining the condition of the fuel tank is through a physical examination. The result of a test carried out relates exclusively to the sample examined and not necessarily also to other petroleum products contained in the system examined. Even if the user can ask for information about taking samples and interpreting the results, it is the responsibility of the end user to ensure that the samples are taken and the test procedures are carried out properly, and not to manufacturer, its subsidiaries or designated distributors.
The test kit is designed to detect the presence of metabolically active biological material, but it is in the nature of biology that the sample may contain organisms that cannot be detected with the test procedure. In particular, the results of test procedures must not be interpreted in such a way that they prove the sterility or sterility of the sample examined. Manufacturers and their subsidiaries and designated distributors are not responsible for any decisions or evaluations made based on the use of this test kit.
Microbiological contamination in fuel and fuel systems can lead to operational problems (e.g. clogging of fuel filters/fuel lines, corrosion of tank linings/walls) as well as compromising the fuel quality itself (acidity/corrosivity and water separability).
Good "house-keeping" including regular draining of water from wing-tanks will reduce the risk of heavy contamination levels, but IATA additionally recommends testing all wing tanks for microbiological contamination at least every 12 month (more frequent for high risk operations like tropical climate/short haul flight) and treatment of any heavily contaminated tanks by biocide and/or cleaning.
The test can be used for testing of: Jet A, Jet A1, Jet B, JP8, JP8+100, F34/F35
The test is simple to perform and can be done without access to laboratory facilities or trained laboratory technicians, and there is no need for special microbiological waste disposal. The test will detect the metabolic activity of bacteria, yeast and moulds, including sulphate reducing bacteria and other anaerobe microorganisms, which are not always detected by traditional growth-based methods.
The test results are not affected by presence of di-EGME (FSII) or approved levels of biocides (100 ppm Kathon FP 1.5 or 270 ppm Biobor JF).
The fast results allow you to:
✈ Decide whether action (biocide treatment/cleaning) is needed during the first day of a scheduled service – reducing ground time.
✈ Decide whether defuelled fuel is OK to transfer to other aircraft.
You might also like